Post Inflammatory Hyperpigmentation
Uneven skin tone? We can help!
Post-inflammatory hyperpigmentation (PIH) is dark spots or patches of the skin. PIH is caused by an overproduction of the cells that normally produce brown pigment evenly across your skin. The overproduction causes too much melanin (brown pigment) to show up in a concentrated area causing uneven skin tone. Whilst it won't happen to everyone, most skin types (3-6 on the Fitzpatrick scale) are at risk of it.
PIH can be caused from any type of injury to the skin, including acne scarring, an allergic reaction, and some types of lasers. The good news is, because it is caused by an external factor, it is usually quite easy to treat compared to other dermal conditions.
At City Laser Clinic, we can safely treat PIH with our Medlite Q-Switched laser.
Post-Inflammatory Hyperpigmentation Treatment
There are two parts to treating PIH effectively.
1. Find the Cause & Stop it!
If you suspect that you may have PIH, it is important to search for the underlying cause and treat that cause. For example, when the discolouration is caused by acne, the acne must first be treated before PIH can effectively be treated. This is because if you don't treat the cause, new PIH will continue developing. Therefore, it is crucial to minimise all new outbreaks with appropriate medications or treatments. Only then can the treatment for the PIH be effective.
2. Wait or Treat
Usually hyperpigmentation will gradually lessen on it's own over time and return to your normal skin colour. However this is a long process that can take 12-24 months, or longer. Ensure that you are also using a broad spectrum sunscreen daily to reduce further darkening. For those of us who don't want to wait 1-2 years for our PIH to fade, there is a faster solution!
Please note that this is not a quick fix – laser treatments will still take time to see improvements. In our experience, significant results are usually seen within 8-10 weekly/fortnightly treatments.
As with all laser treatments, the frequency & number of treatments will depend on your skin type and affected area. Within your consultation, one of our experienced therapists will design a treatment plan tailored to your needs.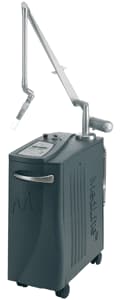 At City Laser Clinic, we use the Medlite Q-Switched laser to remove PIH. Our Medlite Q-Switch (1064nm) has proven to be one of the best treatments in speeding up the fading process. Conveniently, it is the same laser that treats acne – so if acne is causing your PIH, it can treat two-in-one!
No downtime. You may experience mild redness which will last 10-60 minutes, depending on your skin sensitivity.