Have you ever noticed small red bumps on your upper arms, thighs, or buttocks? They kind of look like pimples without a head, but there's so many of them, and if you pick them, nothing comes out? Then you may have a skin condition known as Keratosis Pilaris (KP for short; also known as 'Chicken Skin' or 'Strawberry Skin').
KP is more usually more apparent during the colder, Winter months and often clears up in the Summer. Unfortunately, I can't tell you the cause – because no one knows yet. There's only so much that scientists have pieced together regarding KP. However we have used those pieces of information to help prevent and possibly get rid of any KP you have.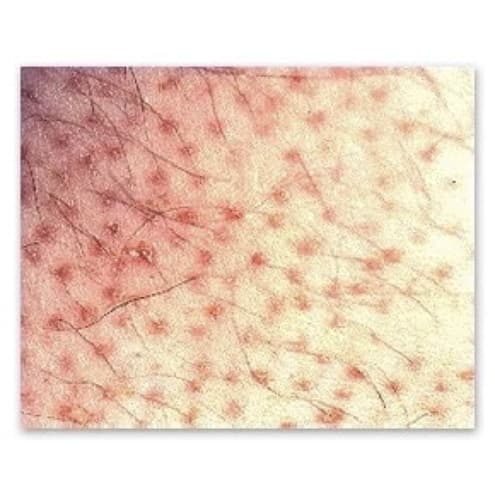 What we do know
It appears that KP runs in families and has a link to a vitamin A deficiency. However scientists haven't quite figured out whether people are more likely to get it because of the genetic Vitamin A deficiency or because KP is hereditary in itself. It is also reported that people with atopic dermatitis or a gluten intolerance are more likely to experience KP.
If you do not already know if you have any deficiencies or intolerances, we highly recommend that you visit your GP. Your GP can refer you to have tests (usually just a simple blood test) completed to establish if you do or not. At least if you know what could be contributing to your KP, you can adjust your diet which will help to calm your skin.
The 'bumps' are caused by blocked hair follicles and make the skin feel rough and dry. Generally the bumps do not itch or hurt however most people dislike the appearance. Although the upper arms, thighs, and buttocks are the usual problem areas for KP, it has also been known to occur on other areas such as the face. KP on the face is also known as Keratosis Pilaris Rubra Faciei (or KPRS Skin).
Things to avoid if you have KP
As mentioned above, we don't know exactly why some people get KP and others don't. However we do know some things that have been linked to KP. These things won't cause KP but you should avoid them as they tend to trigger or worsen existing KP. As with many skin concerns, diet, exercise, and avoidance of some beverages will help to improve your skin health and minimise the likelihood of an outbreak.
Shaving – One of the main problems with KP is shaving. Shaving can not only aggravate the condition, but it can also cause scarring from the razor cutting the 'bumps'.
Waxing – When you see that shaving is making it worse, it's only natural to opt for a different hair removal method. However when you remove the hair with wax, the new hair can get trapped and become ingrown. Consequently, causing more KP bumps appear.
Picking – I know, I know. It's tempting and oddly satisfying to pick any type of blemish on your skin. BUT I know you know it's bad for your skin. Scarring is much more difficult to treat than the bumpiness of KP. Hang in there, we will help smoothen it out!
Diet – In general you should avoid processed foods, fast foods, and foods high in fat and saturated oils. Try to eat a variety of fresh, unprocessed foods and ensure that you include fish, fruits and vegetables, and whole grains & nuts. Of course – avoid foods that you may be allergic to.
Caffeine – Avoid caffeinated (dehydrating) beverages such as tea, coffee, and alcohol.
Soap – We recommend that you avoid using the common commercial soaps. They are way too harsh on your skin and can change your skin's normal PH (Acid/Alkaline balance), destroying the protective barrier of your skin.
Things you should do if you have KP
There's some good news – getting rid of the 'bumps' of KP is the easy part! The answer is Laser Hair Removal and regular exfoliation. Laser Hair Removal for Keratosis Pilaris is the foremost and clinically proven way to manage many skin and hair related problems.
When Laser hair removal is done properly it will ultimately destroy the hair follicle. If this is accomplished then no hair will grow back, easing any KP bumps. When starting Laser Hair Removal, you will first notice the change in texture of the hair. Hair will grow back finer, lighter and less noticeable. As your treatments continue, you will start to notice significant reduction in the amount of hair that is growing back.
Note: Even if it doesn't seem like you have much hair on the areas that you have KP, we still need to do Laser Hair Removal treatments to "kill" the keratin (i.e. hair) that is causing the KP.
In conjunction with our laser hair removal treatments, you also must be exfoliating and hydrating your skin regularly. I recommend using a harsh exfoliant for your body (not on your face though!). The aim when you're scrubbing is to make your skin turn pink. Body exfoliation should be done 2-3x a week, especially if you suffer from KP. In regards to hydration, moisturiser does help however the main way to hydrate is (you know it) by drinking water. A daily consumption of 2-3 litres of water each day is recommended to help the body flush out waste products.
The bumps are gone – now what?
Those irritating bumps have finally gone! Amazing job on your dedication to exfoliation and treatments! You should notice that the appearance of your KP has significantly reduced. However, now you may be left with the remaining red 'dots' from the KP. If these dots don't bother you, you don't have to treat them. As long as you're confident, that's all that we're aiming for!
If you do want to get rid of the dots, you have two options – Q-switched  KP laser treatments or Co2 KP laser treatments. Unlike the Alexandrite laser (which is used for laser hair removal), both of these options are able to focus on ridding the remaining pigmentation (dots) from your KP.
Which Keratosis Pilaris laser treatment is best for you will primarily depend on your skin type, which we will determine in your consultation with our Keratosis Pilaris Specialist. If your skin type is suitable for both lasers, we will let you know the pros and cons of each treatment and let you decide which route you want to take for your Keratosis Pilaris removal.
Consultation
As with all laser treatment, we suggest that you come in for a consultation with one of our experienced therapists. The consultation gives us a chance to thoroughly assess your skin. We will also ask any necessary questions to get a better idea of your diet and lifestyle. With this assessment, we can then design a treatment plan that will efficiently tackle your KP and provide any necessary diet or lifestyle adjustments that will boost the effects of your treatments.
If you are not suitable for treatments with our lasers, we will let you know and provide you with recommendations of lasers that will suit your skin better.
We hope to see you in the clinic soon!